Christian Writers Need the Body of Christ:   I believe there is a pitfall that Christian writers can fall into, if they are not careful.  It is similar to the problem I and others have had to deal as pastors.  In my preaching and teaching ministry as a civilian pastor and also during a 20 year ministry in the US Navy Chaplain Corps, I sometimes found myself neglecting my own personal devotional Bible reading and prayer.  It was not that I didn't spend time digging into God's Word or that I didn't spend considerable time in prayer. However, I realized something many others in ministry have shared with me.  Most of my Scripture Reading and Prayer Times were directly tied to preparation work for ministry.  I wasn't spending regular time with just me and my Savior, in the Word, in prayer, and in meditation, opening myself up to the leading of the Holy Spirit.  Too often I was neglecting that very personal time just for me with Him.
The similar trap that I believe those who have felt God's leading to write, either as a full-time occupation/calling, or as another aspect of our Christian life,  is that we can drift from meaningful fellowship with God's people.  We can try to justify that with faulty reasoning. "Well, I'm a writer.  I write Christian fiction (or non-fiction).  So that's what God has called me to do with my time."  And so we spend tons of time, when we are motivated, writing things that we pray will bless some reader somewhere or many readers in many locales.  For some of us, we can lose touch with other Christian brothers and sisters.  Oh, yes, we may attend our worship sometimes, and we might fellowship on FB or  on various BLOGS for Christian writer's. That's all good.
I find, though, that essential for my continuing to write effectively in accordance with God's will is my participation in face to face fellowship with members of the body of Christ. I'm talking here about face to face, I can see  your non-verbal communication as well as hear your thoughts or read your thoughts on a very one dimensional piece of paper.  For me this means being a consistent part of at least one small group.  At our church here in N. Brookfield, MA, I'm privileged to be a regular part of three small groups.  One is a grief support group, another is a Bible study on contemporary issues.  The third is our Christian Writers' Group that meets once a month.  These groups all help to keep me grounded in my faith and give me a sense of community I can never find on any part of the internet.
I would ask myself and you this question: How can we write something that will touch till the ground in hearts, or plant seed, or, if God wills, reap a harvest, if we are not growing in our knowledge of God's Word and in a deepening mutually supportive fellowship in some local expression of God's family? I know the answer for me personally is, I cannot do that to the best of my God-given calling and ability.  I require that support, people to pray with me when I'm hurting or rejoice with me when I rejoice, brothers and sisters who can share a real tangible hug with one another.  Our friends in Christ that we can see, share with, be in personal relationship with, become for us what a dear friend once told me was "Jesus with skin on."  I cannot continue to write fiction or non-fiction that will bless others in the wider family of believers without those genuine relationships.  Just as I need time with my Savior in prayer, meditation and the study of His Word, I also need other believers.  They can help me know when I'm perhaps going astray from what He has called me to write. They can encourage me when I have one of those down-times when writing is a drag.
Are you a Christian writer reading this Blog today?  Is there a message here for you? I know there is one for me.   With Love and Prayers in Him, Ken Winters
January 25, 2014:  E-book is on sale on WAVE CLOUD reduced to $2.99!!
Here's the news I've been waiting to share!  I have just changed my listing of the E-book version of The Lost Crown of Colonnade from being listed by XULON Press to being listed directly by ME as the author.  That has enabled me to lower the price from $7.99 to $2.99!!!  If you have read the book and think others would enjoy it too, THIS IS THE TIME for them to go on line and buy it at this bargain price!  Now available on WAVE CLOUD in KINDLE, NOOK and I-Pad (I anything) formats…  Check it out, and share this to spread the news!!!! https://www.wavecloud.com/book/lost-crown-colonnade/wc20000111979/12525156
New Price is coming for all Versions of my E-book!
Hi everyone,
Stand by for my announcement of the new price for E-books!  Whether it's on I-Cloud, Amazon, Barnes and Noble, the price will be greatly reduced from the current $7.99.  I just have to finish up with some paperwork and I'll make the announcement in the next few days!  I'm very excited about this change, because I thought I was STUCK with the price forever.  It's taken a few steps with XULON Press on my part, but I will shortly have total control over the cost of the E-book version.    I Thank our Lord for this very good news!!!
About CELTIC KNOT by Tammy Doherty
When widow Abby Finnegan meets ranch hand Kyle Lachapelle, she figures he's as deceitful as her family. But Kyle is a Secret Service operative working undercover, and Abby has a disturbing connection to his counterfeiting case. Abby's protecting her heart while Kyle can't afford the feelings stirring in his. Love is out of the question…or is it the answer?
Excerpt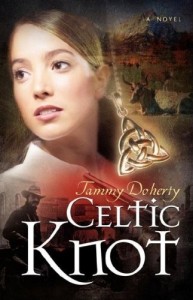 "Look, mister," Boone stood toe to toe with Kyle, their eyes level with one another. "I'm the law in these here parts an' it's my job to know about newcomers to town. An' I ain't partial to your wiseacre answers."
"Well, I guess that makes us even, 'cause I'm not partial to your lewd, nosy attitude." Kyle held Boone's gaze, as if daring the other man to make something of his answer.
Boone stared back, unblinking. He wouldn't back down from a stare-off. Most cowpunchers either worked for Raymond Bigelow or were just passing through Prophecy. Bigelow hands generally knew their place when it came to Boone Warren. Rambling men were naturally intimidated by Boone's large size and the way he carried himself. This man was quite obviously not intimidated or impressed.
Tension thickened the air as each man waited for the other to back down. Abby noticed that while Boone's gun rested in its customary place at his hip, the stranger was unarmed. If Lachapelle noted this fact he made no sign that it mattered. And though she well knew how apt Boone was with his fists, she began to wonder if perhaps this newcomer might be able to best him in a fight. She wasn't willing to find out the answers to any of these questions.
"That's enough," she scolded sharply. "I'll not have such a show of childish violence in front of my daughter."
Even the sharpness in her voice did not break the staring match. Abby frowned and forced herself between the two men, shoving Boone backwards. He broke eye contact with Lachapelle and turned his gaze to her.
"I'm ashamed of you, Boone Warren." Her voice was quiet, yet forceful. "You really must learn your manners."
He dipped his head as if apologizing, but only to Abby and only for a moment. His anger was barely veiled as he looked again at Lachapelle. "Make sure you're on your best behavior when in my town. I don't tolerate any hooliganism. Understood?"
This
week's featured GRACE AWARDS Book is  CELTIC KNOT by Tammy Doherty  
I am privileged to post an interview that was recently done with one of the CHARACTERS in CELTIC KNOT.  I hope you enjoy this unique interview.  It's not often we get to see a novel from one of the people who are in the STORY!
Today I have the pleasure of chatting with Millie Finnigan. Millie's mother, Abby Finnigan, is the heroine of CELTIC KNOT.
"Welcome, Millie. Have a cookie and tell us a little about yourself."
Millie grabs a cookie but waits to eat it. "Hi, I'm excited to be here today. Let's see, I'm seven years old and I live with my mother in Prophecy, Colorado." She takes a bite of cookie, not talking again until she's finished chewing. "My real name is Millicent but Momma only calls me that when she's cross. I try not to make her angry 'cause she works real hard and hardly ever smiles. Momma has a pretty smile but sometimes her eyes seem to look far away and her face gets sad."
"Why do you think she's sad?"
"It's as if she's looking at a photograph in her memory." Millie fidgets with her dress, dropping her gaze a moment before continuing. "Remembering Daddy, I think. He died when I was four. That's when we moved back to Prophecy. Momma says that Daddy called me his little blessing. I don't hardly remember him. Sometimes that makes me sad."
"What makes you happy?"
A smile brightens Millie's countenance. "Playing with my best friend, Jennifer Stanton. Her pa is the town preacher an' her folks are real nice. They always treat me like family. Pastor and Mrs. Stanton worry about Momma an' me, 'cause we don't always have money for nice things. But Momma takes real good care of me."
"Doesn't your grandfather own the largest ranch around Prophecy? In fact, he owns most of the town. Why doesn't your mother ask him for help?"
Millie shrugs. "Momma's family isn't very nice. I've never even met my grandfather. Once, I heard someone say that Raymond Bigelow, that's Momma's father, is so mean an d contrary he makes Satan look angelic. All's I know is my uncle Clayton is scary. He says things like teaching the whelp proper respect. That's what he calls me, the whelp." She shudders. "I don't like him."
"I'm sure your mother stays away from Clayton, then."
"We try but Momma works at the Silver Streak Saloon, as a maid. Uncle Clayton goes there a lot and he looks for Momma. He likes being mean, an' not just to her. I can't understand why Boone is friends with him."
"Who is Boone?"
"He's our sheriff. Boone's real nice. He always wants to buy me stuff but Momma won't let him. She says she don't want to be beholden to him." Millie scrunches her nose. "Not sure what that means. I do know Boone wants to marry Momma. He might be a nice daddy. Still, I want Momma to be happy. She never smiles for Boone, least ways, not the kind of smile she gets when Mr. Lachapelle is around."
"Kyle Lachapelle? When did you meet him?"
"He came into the mercantile one morning when Momma was buying supplies an' things." Millie leans forward to whisper, "He likes lemon candies just like me." She sits back in the chair, speaking in her normal voice once more. "An' he stood up to Boone, didn't let anyone push him around. Later, he walked with Momma and me and he was a real gentleman. I hope he comes around more, 'cept Momma told him she don't want to be his friend. I hope she changes her mind."
"I sure hope so, too. Millie, it's been a joy having you here today. Do take one of those lemon candies from the jar for later. Yes, you may take one for Jennifer as well. Thank you for visiting."
~ purchase links: Amazon http://amzn.to/ZxBnsP
Barnes&Noble http://www.barnesandnoble.com/w/celtic-knot-tammy-doherty/1007436106?ean=9781597811873
iTunes https://itunes.apple.com/us/book/celtic-knot/id585956314?mt=11
Smashwords https://www.smashwords.com/books/view/261743
When widow Abby Finnegan meets ranch hand Kyle Lachapelle, she figures he's as deceitful as her family. But Kyle is a Secret Service operative working undercover, and Abby has a disturbing connection to his counterfeiting case. Abby's protecting her heart while Kyle can't afford the feelings stirring in his. Love is out of the question…or is it the answer?
You can buy CELTIC KNOT at these outlets!:  Amazong http://ow.ly/pvI8j #western #romance
Barnes&Noble http://www.barnesandnoble.com/w/celtic-knot-tammy-doherty/1007436106?ean=9781597811873
iTunes https://itunes.apple.com/us/book/celtic-knot/id585956314?mt=11
Smashwords https://www.smashwords.com/books/view/261743
OR leave a comment at Tammy's website and you could win a FREE COPY! :  http://mystiqueofnaultag.blogspot.com/
A Heart's Home: Christian Historical Romance Novella set in 1746, India
Born in England and raised in India by her father after her mother's untimely death, Asyra has been ostracized from her small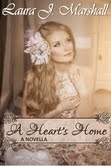 village most of her life. News of her impending marriage arranged by her grandmother back in England only serves to confuse her further about who she is and where she fits in. When Madras is attacked by the French before Asyra's ship sails, she must pretend to be the wife of her grandmother's agent, who happens to be the elder brother of her intended. Can she move beyond prejudice to find her place in the world?  Buy  A Heart's Home on Amazon
FIND OUT MORE ABOUT THE AUTHOR: www.LauraJMarshall.com
This week's GRACE AWARDS Book Launch features the Novella "The Hearts Home" by Laura J. Marshall.  You can get more information on this fine book and others by Laura by checking out her Website:  http://www.laurajmarshall.com/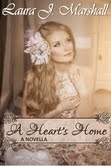 The Lost Crown of Colonnade is about overcoming almost impossible odds and limitations. It's about the importance of friendships, love and faith in helping us deal with the struggles of life. The battle between good and evil comes into clear view in the conflict of the land of Colonnade and the desolate land of Necrus.
At the beginning of the story 
we meet Davey Johnsen, who is almost fifteen-years-old. Unfortunately, he has lived the past 8 years of his life unable to walk without the support of braces. In his parent's "mini-mansion" in Southeastern Connecticut, he spends time creating and living out fantasies on his giant computer screen and deep within his thoughts.
With the push of one purple button he finds himself transported to a very different world or dimension. His arrival is viewed by the residents of Colonnade as a fulfillment of a centuries-old prophecy. If he accepts the words of that prophetic word, then he is faced with a daunting task, one he feels very poorly prepared to attempt.
An aging Inn-Keeper, a middle-aged Army sergeant, a Captain of the Guard, a young cook, an extremely intelligent 700 pound bear and the beautiful princess of the land become his close friends. Together they form the band of seven who accept the challenge to regain the lost crown.
While they travel under great secrecy into the land of Necrus, the Regent of Colonnade and his vastly outnumbered army, create a diversion by attacking the evil land's outer defenses. Regent Stephen realizes his army has little hope of success. All hope lies with the little band finding its way through the desolate land ruled over by the King of Necrus, himself merely an underlord to  Dagron, the Lord of All Evil.
This week's featured book in the GRACE AWARDS 2013 Book Launch is my own book: "The Lost Crown of Colonnade." I am very pleased with the wonderful reviews the book has received on Amazon and in other places on the Net.  You can check many of those reviews out at Buy The Lost Crown of Colonnade on AMAZON!   I am currently working on Book Two in the "The Journeys To Colonnade.  The working title is "The Enchanted Bride of Colonnade." So, if you read and enjoyed Book I, there are more adventures in store for Davey, Princess Alisande, Snuffles and company.  
$10 SALE on ORIGINAL Paperbacks!
Hi!  I'm attempting to sell all of my original printing of my book, which had, unfortunately 12 format errors.  The book being sold on Amazon, Barnes and Noble, etc, is the corrected version(the way it SHOULD HAVE BEEN at the START).  So, the ones I have on hand have the format issues. Doesn't affect the story at all, but I don't think I should be selling them at the same price as the Paperback available elsewhere on the web.  SO, it's BARGAIN TIME!!!  Makes a great  gift for teen, Young Adult, and has been enjoyed by people from age 12-93!  $9.99 each plus postage!  Just go to my Wife's E-bay store: Here's the link!:
Buy the book directly from the Author on E-bay
Davey Johnsen is a physically challenged fourteen-year-old from a wealthy community in Connecticut. In a moment he exchanges the comfort of his beautiful home for the rugged terrain of an unknown land. There he meets six faithful companions who join him in the perilous journey to reclaim The Lost Crown of Colonnade. One of them is the most beautiful young lady he has ever met, the teenager, Princess Alisande.
Is it all a dream, or are his new friends and the enemies he faces very real? Will this band of seven accomplish their quest, or will they fall victim to the overwhelming forces of the Evil King of Necrus and his Master, Dagron? The answers can only be discovered between the covers of The Lost Crown of Colonnade!
Genre: Teen – Young Adult Fantasy
ISBN 9781613794760
Publisher XULON Press
Check Out the great books and authors that John 3:16 Marketing has to offer!
http://john316mn.blogspot.com/p/books-available-from-our-john-316.html